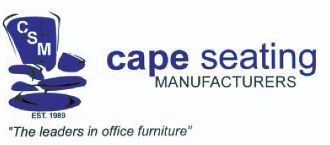 Cape Seating Manufacturers began trading in 1989, specializing in the manufacture and supply of office chairs. Keith Roberts, who today is still the sole owner, started the company. Cape Seating is 100% black owned, and has a SEESA BEE rating certificate.

From humble beginnings, the company has grown steadily and has become a one-stop shop for all your requirements.
The product range has increased drastically over the years to the point that it produces Office and Boardroom Furniture, Reception Furniture and Office Seating, Canteen and Training Furniture, Repairs and Upholstery, Filing and Storage Cabinets, Restaurant and Contract Furniture ( Chairs and Tables ).

Cape Seating has a staff complement of 40 employees who represents Woodwork, Steel Works, Upholstery, Repairs, Assembly, Steel Epoxy Coating and Polishing ( Furniture )

Over and above the factory staff; Cape Seating also has management staff, comprising of Human Resources, Accounting and Administration, Sales and Marketing, Tele-sales, Consulting and Training.